Spacious luxury villas at Soneva Fushi are hidden among dense foliage on a private island, located within the Baa Atoll, a UNESCO Biosphere Reserve. It is a 30-minute seaplane transfer from Male International Airport.
At this eco friendly resort, all the villas and rooms are extraordinarily spacious and enjoy direct private access to the beach. Signature bathrooms are built within a large private garden setting with outdoor showers and separate bathtubs.
You can explore the island with complimentary bicycles. Intuitive service is provided by Mr./Ms. Friday butlers. Highlights include the open-air Cinema Paradiso, counting Saturn's rings in the high-tech Observatory, the home-made chocolate and ice cream rooms, five hundred wines to choose from and six different restaurants.
Learn the art of glass blowing at the Maldives' only glass studio, discover the waters with complimentary non-motorised water sports, and sail aboard Soneva's luxury two-bedroom yacht, Soneva in Aqua.
Guests can spend an evening overnight at the Sandbank, completely private and remote for a truly intimate experience under the stars.
https://youtu.be/TSWCZADj3KY?list=PLn9Rz4srrRUDLxR1BBMLWUF7ezuS25eaq
The Destination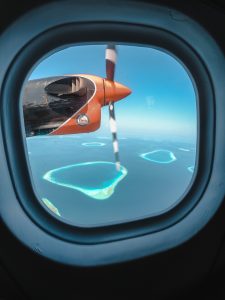 The Maldives' 1,192 coral islands barely break the surface of the Indian Ocean along the Equator in an archipelago of 26 atolls. Sixty nautical miles northwest of Malé, in the Baa Atoll, Soneva Fushi's home of Kunfunadhoo Island is one of the Maldives' largest at 1,400 metres long and almost 400 metres wide.
The captivating 30 minute seaplane journey from Male International airport cruises over the full spectrum of nautical hues and ringed shaped reefs known as 'faru'. You'll know you've arrived when you reach our floating jetty which we affectionally call the Soneva Fushi International Airport.
Villas
Villas at Soneva Fushi are located on the sunset or sunrise side of the island. While both sides have the Maldives' signature white-sand beaches and crystal clear azure waters, there are a few differences.
Sunset side: For snorkellers
This side has three house reef access points and dolphins are more likely to be spotted in the channel.On this side of the island it is possible to see our neighbouring island, Eydhafushi, approximately 650 metres away. Guests who want more privacy may consider staying on the sunrise side of the island.
Sunrise side: For privacy
Enjoy virtually unimpeded views out to sea, as Maalhos, the closest neighbouring island on this side, is just a speck on the horizon. This side is perfect for early risers who want to enjoy the morning tranquillity.